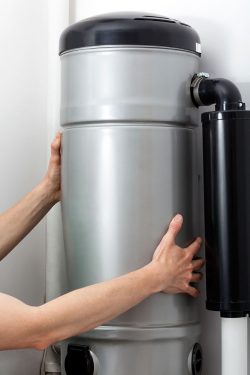 When you buy a central vacuum system for your home, not only are you going to get a great brand—you're also going to get the best installers in Florida! Central Vacuum Connection has decades of experience when it comes to installing central vacs in homes of all sizes and styles. We're here to facilitate a clean, thorough installation that results in a perfectly accessible central vacuum experience.
Our trained professionals take the time to install every component of your central vacuum cleaner perfectly, so there are no issues when it comes to finally turning it on and using it. We also work with you to pinpoint areas around your home where ideal outlet placement should be considered. Once we have the lay of the land, we work swiftly to install all of the vital components of your system. We're dedicated to giving you a seamless central vacuuming system installation in Florida.
New construction installation
If you're building a brand-new home, there's no better time to consider a central vacuum investment! We've worked with numerous new developments to install systems that are truly native to the design of the home. Instead of working around the construction of an existing home, we can seamlessly integrate a central vac system into the development of your new design.
Retrofitting
Already have a central vacuum cleaner in Florida? We can retrofit old units to something newer and more modern, using existing key aspects of your original installation. We'll go through to swap out old tech with new innovation, without having to undertake a completely new installation and all of the logistics that come with it. We'll be done in no time, leaving you to enjoy an updated system that's purely effective.
No matter what type of installation process we perform, you can rest assured our experts will test everything before we leave. We can even walk you through the function of your vacuum, so you're comfortable with using it! Let us show you how a truly expert company handles central vacuum installation—give us a call today at 561-262-1684.